Want to know why everyone is touting the virtues of Evernote? Because it really is AMAZING! If you haven't yet tried this app, then read on. And if you are already using it, read on to find out how to further boost your productivity with a feature that you may not even be aware of.
First o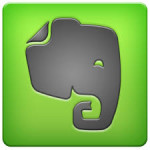 f all, Evernote is a tool that allows you to store all kinds of electronic files among all of your devices (smart phone, PC, Mac, Tablet). You can store weblinks, photos, voice files, and any type of attachment. You can also create within Evernote by typing in content or recording content from your microphone. For a brief summary on what Evernote does, click here for their video: http://evernote.com/video/#D7oSS4i57MY|1|1
In Evernote, you create "notes" (kind of like a page that can hold any type of text, image, links, attachments and can be as long as you want) within "notebooks" (similar to a file folder).
There are many tutorials on the Evernote weblink above that can show you how to use its many features but here are some of my favorites:
Create a table of contents with links that refer back to other notes so that you can easily find files and be better prepared for meetings or complex projects.
Try Evernote's Penultimate (a separate app) that turns your iPad into a hand writing tool using a stylus. Your hand-written notes or drawings become searchable and can be shared with others.
Introduce your kids to Evernote "Peek" –used with your iPad and a "smart cover," it turns your notes into flashcards while you lift the cover and peek at the question so that you can test yourself on the answer.
The Evernote Web Clipper – used with the Chrome browser – is a must for easily capturing web links, articles and screen shots. You can completely eliminate using "favorites" in your browser to store web links because now you can even annotate and mark-up comments to the links.
Each of these features is nicely explained on a separate tutorial found on the Evernote link above. Check them out plus some others you may want to try. Productivity will never be the same!