It was so much fun writing this article originally for Rubbermaid Configurations Canada and now it's your check list to get your daily dressing groove back on!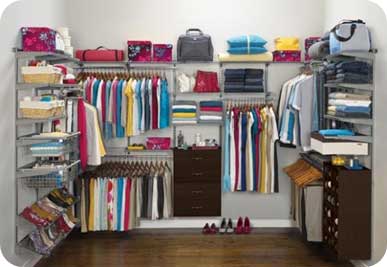 Is your closet cluttered? Do you have multiple items of clothing on hangers? Can you find the shoes you want right away? Do you know where all of your ties are?
If you're like most people, there are times when your closet is organized, but more often, clothing and accessories pile up until they are a jumble and finding what you want can require what feels like an archaeological dig. There may be clothes in there that you've completely forgotten you even have!
A closet makeover can be an exhilarating activity, but where do you start? How do you do it, and how do you maintain order once it's done?
Here's a four-step closet makeover process to get your closets organized and efficient:
1. Assess
2. De-clutter
3. Refine and Optimize
4. Evaluate your results
Step One: Assess Needs
Answer these questions
a) Who will be using the closet? Adults, growing children, an elder?
b) What do you need the space to hold? Coats, sports attire, seasonal clothes?
c) What is your organizing style? Do you prefer items to have a specific place in the closet? Do you like similar styles to be grouped together? Or are you more comfortable with casually draping your clothes over the door until you feel like putting them away?
Step Two: De-clutter
You'll need large plastic bag and tape and marker
Lighten the Load
1. Review each item from the closet.
2. Return items that you want to keep to the closet, and make a pile of things you want to discard.
3. If you are unsure about whether to keep an item, hang it backwards.If you haven't worn it in a year, you'll know. You can then decide what you'll do with it.
4. Next, divide the discard pile into three clearly labelled bags: donate, garbage and consignment. Divide the items remaining in the closet into "Current" and "Out of Season." Store out-of-season items separately. They don't get prime closet real estate until their season arrives.
Start Small to Achieve Success
If this is your first time, choose one small closet 
Set a timer for 30, 60 or 90 minutes, based on your work style
Stay focused on one closet until it's finished
Step Three: Refine and Optimize
Now that you know what you have:
1. Group items in a way that makes sense to you, by color, style, etc.
2. Optimize the space by using practical organizing tools like a belt hanger, space-saving hangers, jewellery and scarf organizers and door hooks.
3. Consider installing lights to brighten up the interior of the closet.
Step Four: Evaluate Your Results
1. Do you have a place for all of your belongings? If not, you either need to cull more, or consider other options for storage.
2. If you have space particularly overhead or on the floor that is inefficiently used, consider installing a customizable closet system like Configurations™. You will need to measure your space – width, height and depth and then simply install.
via Rubbermaid Canada | Configurations.
Related articles