When people say 'just get rid of it' I totally understand that you freeze – logic tells you that it's absolutely ridiculous to have such a strong attachment to **insert the name of your beloved possession here** and yet, you just can't let it go….. Oh boy, do I understand!
Take a look at this table – it has four people's hand prints. Mine, the kids (they printed twice) and one of my sisters. There are also foot prints and motivational quotes about family and love. My friend Tony made the table top to fit a pair of antique table legs I had.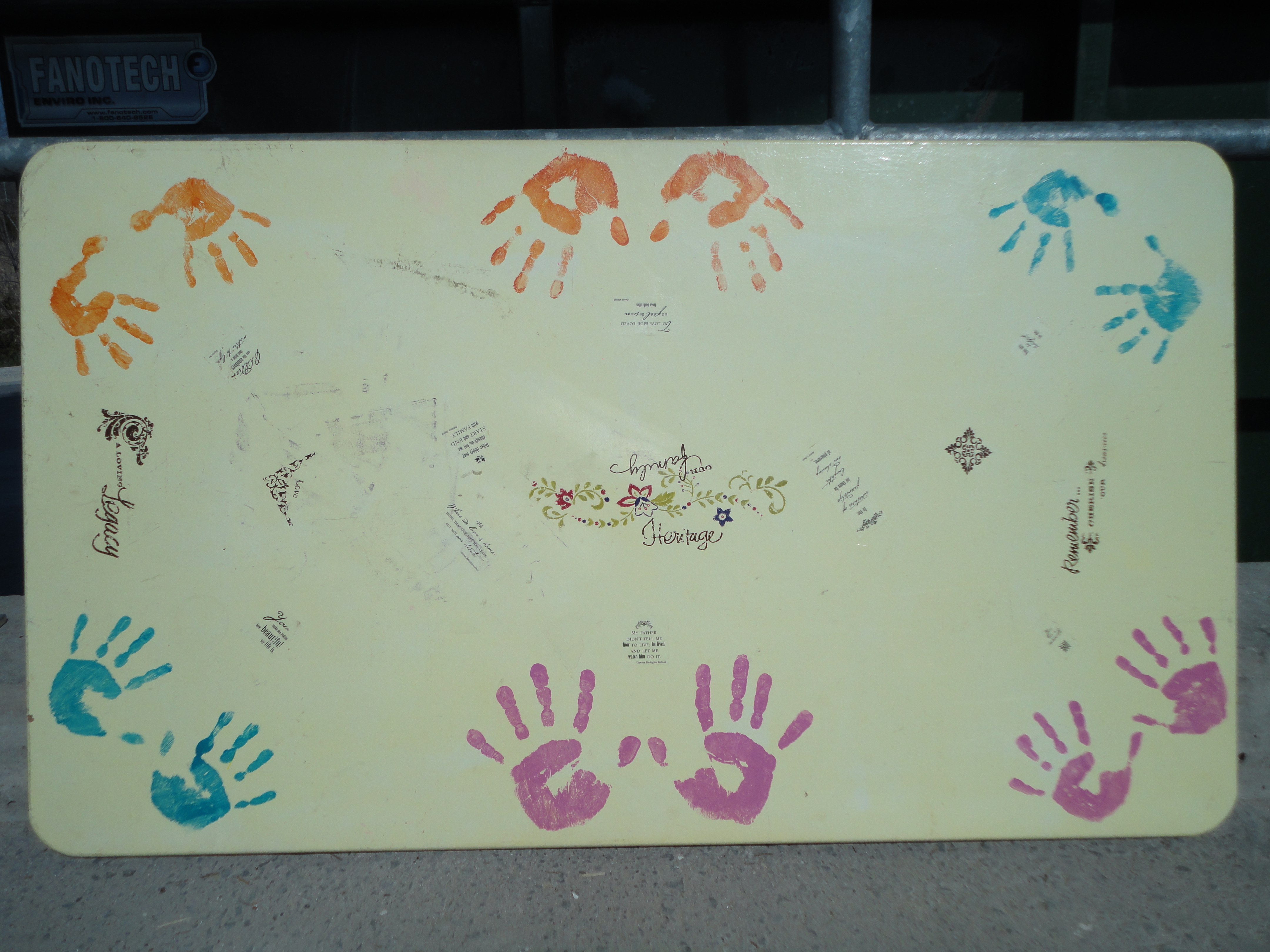 But, for the past four years this table was no longer our awesome kitchen table instead it was my daughters sewing table and then when we moved last year, well, it wasn't her sewing table any more. We no longer had a use or a place to keep the table so, very practically I took off the legs and said I would hang it as a piece of art…..because I didn't want to get rid of it. I loved that table and the story behind how it came to be – the reasons why we painted our hand prints, the fact that Tony made the top, the time we took to create it.
I wasn't really going to hang it as art but I needed more time – I wasn't ready to get rid of it yet so the table leaned against a wall in the corner of the storage room until the day came that I was ready to let go.
That day came about two months ago when I decided I was ready to let go of the wood. I took pictures of the table and then loaded it into my truck, rather ceremoniously – remembering everything I could about the time we painted it and the meals we ate at it with family and friends – and I drove to the 'dump', pulled in, paid my $10 and then slowly backed my truck into the spot by the big garbage bin and opened the trunk. There was my beloved table top (I'm almost laughing to myself when I think about it because I'm still emotional about the table) I slid it out of my truck and balanced it on the railing and with one deep breath I pushed it into the bin with all my might and threw my arms up in the air, like I'd just passed the finish line in a race. I did it I finally got rid of the table top!!
In the end, it's the memories that I want to keep not the wood.