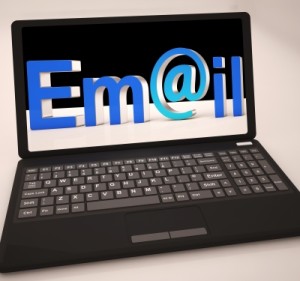 Email – everyone has it, and we all love to complain about it. How about coming back from a 2 week vacation and finding hundreds of emails to sort through? Not much fun at all, c
onsidering that you probably have enough other pressing projects to work on after being away.
Check out our "email efficiency" checklist – see how many of these ideas can work for you. There may be a bit of trial and error to figure out your best solutions, but once you do, you'll be so pleased that you took the time!
Don't let email take over your entire day – schedule a few blocks of time into your calendar daily to read your emails and only open up your email program during these times.
Sort your emails immediately as you read them – don't ever just read an email without doing something with it. Either it's an appointment to calendar, a task for your to-do list, info to move to a storage or follow-up folder, or contact info to enter into a database.
If you really have hundreds of emails weekly, try a program like www.sanebox.com which will filter your messages, move them to the cloud, unsubscribe with 1 click, and remind you of follow up.
Before you go on vacation, instead of setting up the automatic "out of office" message, auto-forward your emails to an associate in the office – if you can.
If you can't, then consider checking your email every few days from your smart phone or tablet while away – yes, I know this sounds unorthodox but it may well be worth your sanity just to stay on top of it!
Consider switching to a Gmail account, one of the best email apps out there for sorting and searching – you can even use Gmail with your domain name, eg. yourname@yourbusiness.com Check out Google Apps for Business which is well worth the $5/month fee: http://www.google.com/enterprise/apps/business/products.html?section=gmail
Try using one separate email account only for online subscriptions and online accounts. This way if you get spam messages, they don't clutter up your main personal or business email account.
Be religious about reporting spam or moving unwanted junk mail to your "add to blocked senders list" – it really does help if you stick with it.
Try to incorporate as many tips as you can and you will find that email can become easier to live with, after all, we know it's certainly not going away!