As the weather chills here in Canada it's time to tackle the inevitable – our seasonal clothing switch over.
No need to dread this years adventure because we've simplified the steps for you in two parts – what your storing away and what your pulling out.
Going into storage:
1. Clean – clean items before you put them away to prevent soils from becoming permanent
2. Breathe – we must breathe and so must our clothes, otherwise they get musty. Use fabric containers to store items away
3. Dry – items must stay dry so consider using moisture absorbing packets
Bringing out of storage:
1. Refresh – clear the wrinkles and refresh everything by ironing and steaming. Save time and money by using the T-Fal Steam Station – powerful steam will penetrate all fabrics and the water tank is extra large so you can iron/steam forever (okay, a very long time) before having to refill.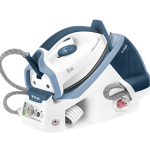 2. Organize – drawer organizers for your undergarments, sports socks and dress socks, etc.
3. Maximize – think vertically to maximize your space by using (good quality) clothing hooks on doors, stacking transparent containers on the shelf and narrow felt hangers (with the extra hook) to optimize hang space. Think horizontally to store out of season shoes and summer scarves under the bed  – in separate containers 🙂
Think of your seasonal switch as a four step process: 
Assess
De-clutter
Refine and Optimize
Evaluate your results
Click here to read of the seasonal switch over tips I shared (or wanted to share) on the Breakfast Television segment
Click here to read about the Four Steps to making over your closet …