Of course I have work to do but skimming my 156 emails from yesterday has this … dare I say, sex appeal.
If you Google "what is sex appeal?" wikihow.com says that "sex appeal is, by nature, almost undefinable" … then goes on to explain how it's a "nebulous quality that draws you to someone who isn't necessarily attractive" …maybe, just maybe it's also an attraction to 'something'.  Yahoo says that the term 'sex appeal' was "invented by the media to describe whoever is hot that week" and this is where I start to connect the dots…..
I'm drawn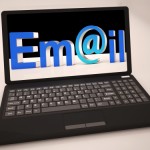 to my inbox to see what's happening, 'what's hot' and who those I admire are talking about and of course, to run my business. I find myself drawn into watching a great TED talk or skipping on over to my social media pages to share what I feel is valuable….but how is that helping me?
A study discussed in inc.com shows that employees spend about 1/2 of their day on email. They go on to say that reducing a workers unproductive time by 25% can yield an extra six weeks of productivity each year. I know the ears of employers just perked up as should the ears of those of you who are self employed!
You have two choices right now – to continue to spend endless amounts of time in your email inbox or to spend quality time with your emails executing them at rapid speed by following these four steps:
1) direct those that are action items to a task list
2) delete or delegate
3) put the appointment into your calendar
4) move all emails that you want/need to keep into a folder
It's a four step process and those four steps  might be the hardest four steps you'll take this week but if you think of the alternative well, you might just start thinking of your email inbox as a tool that you manage instead of having sex appeal that ultimately isn't serving your success.
Remember, email sorting is four steps.
Feel free to drop us a line if you find yourself struggling to get your inbox cleared out – we're happy to offer insights and strategies that dig deeper into each step.