How many of us are old enough to know the phrase "nooks and crannies"? And what's the difference between a nook and a cranny anyways? Well, a "nook" is defined as a corner and a "cranny" is a small opening or crevice. You may be wondering how this relates to being organized, but if you think of all those little spaces in your home that can be effectively utilized for storage, perhaps your daily routines of putting things away can become a little bit easier.
• The piles of paper coming into your front door can be sorted right where it comes in – set up a basket or wire file system on a nearby shelf, or affixed to a wall near the front door for your mail, flyers, and other papers that arrive daily.
• And what family household doesn't have piles of shoes? Treat shoes like your files by designating a basket for each family member to hold their shoes and as it starts to overflow, they have to sort, organize and archive their shoes that are out of season.
• Another common problem is missing keys, especially for things that may be seasonal. The solution to finding keys when you need them is to store them in a logical place. Use adhesive Command hooks for hanging house, bike or cottage keys and for those keys used less often hang them inside the front hall closet.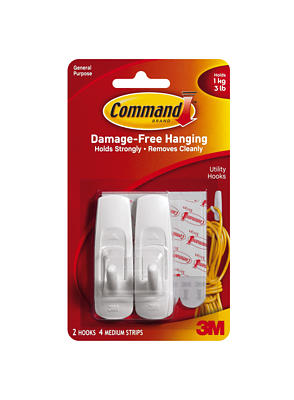 The Command Brand of products are fabulous because they won't damage your walls and they are made to hold different weights.
Take a moment to think about areas in your home to set up some sorting and storage stations that make sense for you. By seeking out those precious nooks and crannies to hold your papers, shoes, keys and more, you will have a simplified process to make it easy for everyone to put things away so that your home stays clutter free and tidy every day of the year and not just when company is coming!